Brian Molko and his fellow band members at Placebo gave a great show in Israel. And today, The Editors are playing in town. The Editors were initially had a minor role in backing theThe Pixies, that cancelled in the last moment. I'm glad that The Editors came.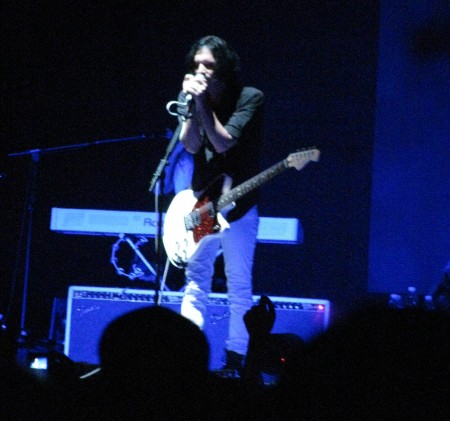 Placebo's show was great. They had a great mix of old hits with new songs, the sound was above average for Israeli gigs, and they had a great interaction with the audience.
Two of the bands that were supposed to support Placebo cancelled two days before the event. I was very disappointed from Klaxons' cancellation. When the news broke out, I was listening and enjoying their music.
This was only the beginning. The Pixies, which were expected to headline the second day of the Pic.Nic festival, cancelled in the last moment as well. The Pixies are very popular in Israel, and their cancellation triggered worries about further events, such as Elton John's concert which is due next week.
This wave of cancellations followed the flotilla event. The cancellations either came as a protest against Israel's actions on the boat, or due to a cold calculation – coming to Israel could deter fans elsewhere, so a cancellation of the Israeli gig would just be an act of "cutting losses" rather than a protest. There were also talks about the artists receiving death threats from Arab organizations.
Rami Fortis, a veteran Israeli rocker that replaced the Klaxons at the last moment, said that the stage is the right place for making a protest – not a cancellation. I certainly agree with him. I also have lots of criticism about the handling of the event.
Flotilla trouble
Our country won the audition – we precisely played by the pre-written manuscript from the provocative IHH organization. We could have totally ignored the flotilla, as we did two times in the past, taking the wind of their sails.
But even if the government decided to follow the siege policy, we could have done it totally differently – in mid day, bringing flowers, broadcasting it live, and using our best military unit only for backup. Would the IHH bullies dare to hit the soldiers? And if so, would we have lost the media battle?
After a night raid, using our strongest force (but sending them unequipped and getting them humiliated), the end result was 9 dead civilians. That's were the Israeli "explanation" effort began. We could only lose.
Back to the music
Anyway, I'm glad that the The Editors showed up. They will play at the "Barby" – a smaller indoor venue. I'm acquainted with the band's music after seeing them in the Werchter rock festival in 2008. In fact, they'll be playing in Werchter 2010, and I'll be there. I still decided to see them tonight in Israel – this is my small way of thanking them.
And they're really great. Check them out: