Springtime in Israel is a great time to travel north. After an hour and a half of driving, you are in the green mountains of the Galilee. After some rain in the winter, and before the hot summer sun turns the green to brown, the time is right for a visit.

My girlfriend and I took a short weekend vacation and traveled mostly around Mount Miron. Now, at the end of April, many flowers can be seen. The peak of the blossom was already behind us, but we could see lots of flowers.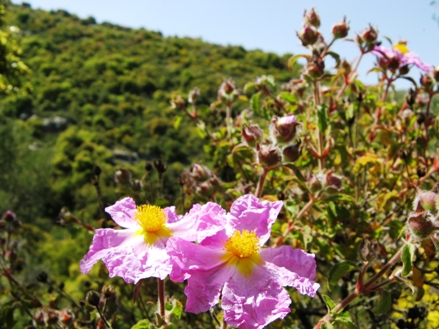 For a change, this time we stayed at a Druze village called Beit Jan. The breakfast was special: typical Druze dishes replaced the regular Israeli breakfast. Another difference was the price, which was approximately 30% lower than our last vacation (at a Jewish "Zimmer"). Other than that, it was the same 4 walls, a bed, and a jaccuzi. Not something extremely "authentic".
Anyway, we had a nice stay at Beit Jan and did some nice trips in the mountains (got my sunburn).