Less than 24 hours after the demonstration I attended against the war – it broke out by a blitz by the Israeli Air Force. A counter attack of rockets fell on Israeli towns. It dominates the news worldwide.
So, 8 hours after the war broke out, also the voice of the minority was heard. I attended another demonstration, with the same type of crowd, but in much bigger numbers. 
 
More than a thousand people marched from the Cinemateque to the gates of the "Kirya" – Israeli Defense Minstry in Tel Aviv. PM Olmert was visiting there at the same time and talking to reported about the operation.
The slogans were the same, and also the main speaker was the same guy – Dov Khenin. The message changed, since the war already was in action. 
He called for an immedate cessation of hostilies. 
Currently, the fighting is still going on, and only the radical left wing parties are against it. The Israeli left Meretz party currently supports it. They'll probably change their mind in a few days, when they'll understand that it leads to nowhere. They always wake up too late.
Anyway, for whoever is reading this overseas, I'm writing a second post about (almost) the same issue so soon, just to stress that there is also a different voice in the Israeli street, currently a very small minority.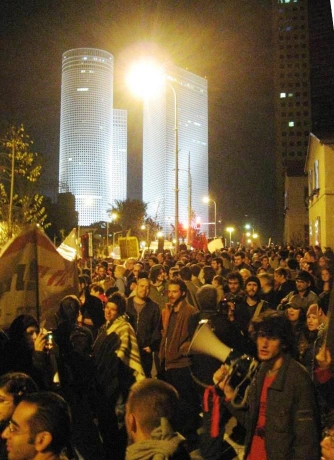 More (bad quality, sorry) pictures from the second Anti Gaza War Demonstration.