The anti war demonstration was supposed to be big: instead of having only radical left protesters, this one was organized by the Peace Now movement. 
Peace now is a veteran left wing movement that has influence on the Israeli political scene for over 30 years. In the Lebanon War in 2006, the joining of Peace Now to the protests marked a change in the Israeli sentiment towards the war.
This time, Peace Now blew it. First of all, there weren't many people: only about 1000 people came, despite the organization many volunteers and workers.
And the bigger problems were in the speeches: Yariv Opnheimer of Peace Now: instead of focusing on the main message of stopping the hostilities, he talked lengthy about how Peace Now is different from those non-Zionist / Red protesters. The focus was on what divided the few protesters, rather than on the simple call for ceasefire. He told them that there are other protests for them – very bad mistake.
Also Haim Orron (aka Jumes), head of the left of center Meretz party, made a bad speech. Although his rhetoric was better than Openheimer's, the message to the Israeli government was: "Think twice before deepening the operation" – quite a weak statement from a party that wants to be a major factor in Israeli politics.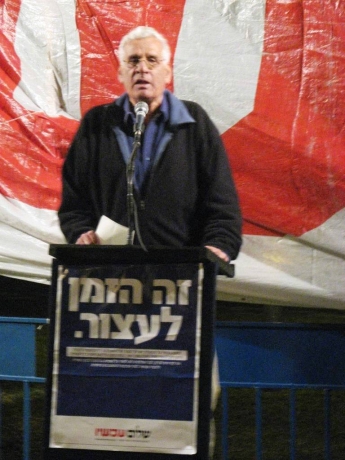 After this disappointing protest, I'm convinced that the Israeli public will stay supportive for the war.
The only thing that can stop the war is Obama's inauguration in a week from now. With the Bush administration in its last days, there is no internal or external force that can now stop the fighting. 
More pictures from Peace Now Gaza War Demonstration.