This is the third part in the series. The previous one described the preparations for the marathon.
March 25th 2012 was a special day. The first cup of coffee after 4 days was great. I also ate a few cookies and a yogurt. Perhaps also an energy bar. I drank water of course.
It was a bit cold in the morning of the race, but not too bad. I put on sun screen and wore a cap. The plan was to run at an average pace of 5:34 per kilometer, finishing the race at 3 hours and 55 minutes. This made sense given my fitness and the fact that it was my first marathon race. The organizer of the running group, who is a veteran runner, designated himself as pacemaker for the first time runners.
A group picture before the race: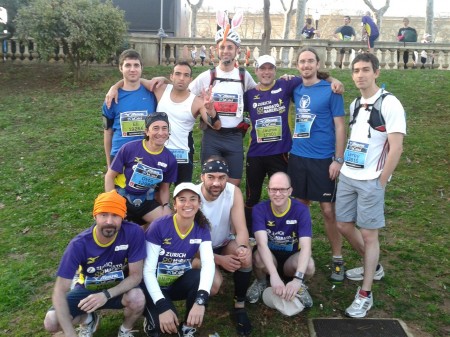 The Race
The first few Ks were packed with people but we stabilized at around 5:30 not too far off from the start. The atmosphere was superb: many people were cheering us along the way, the sun was shining and Barcelona's natural beauty was at its best: the course passed through some of Gaudi's buildings, La Sagrada Familia, Camp Nou, the sea and many other nice places.
There were 11 water stops along the way: each one consisted of a bottle of 330Â milliliters of water and a small open cup of Powerade, an isotonic drink. I assume there were about 100Â milliliters of Powerade in every cup.
I stopped in at least 9 out of those 11 stations, consuming both the full bottle of water and the cup of Powerade. There were two stations of sports' gels. I stopped in only one of them and chewed on most of the gel. There were 6 stations of "solid foods" – I didn't stop in ANY of them. They had bananas, oranges and nuts. This was the initial error.
After about 30-32K I entered uncharted territory and began slowing down. Ingmar, the organizer of the running group and another guy also slowed down together with me and also encouraged me. Their presence kept me motivated and the pace matched my abilities. We ran at around 6 minutes / kilometer – not such a big difference.
We slowed down towards the finish line, and crossed the line while hugging each hugging each other. The finish time was 3 hours, 58 minutes. This was a bit longer than planned, but this slowdown was a reaction to what the body told me, and still a nice time (under 4 hours).
My wife Galia cheered me up twice along the way. After eating half a banana, a bottle of Powerade and more water, I left the running zone and went to the meeting point.
After the Race
We took our time at the meeting point, waiting for everybody to appear, having a great time. We were many first-timers that were thrilled to finish the race.
Perhaps an hour passed by since the end of the race (around 13:00) until we began searching for some place to have a drink and eat something. When we found a place to sit, it was in the sun, though not too hot. I ordered water and a sandwich. I assumed water was important in order to prevent dehydration. That was another big mistake.
The Downfall
Upon putting the sandwich in my mouth, I felt a nausea and couldn't eat it. I ordered more water and asked Galia to go home. She paid, got more water upon my request and we began going home.
I felt a bit shaky on the way, but managed to make the journey. At home, I drank more isotonic drinks and more water. Galia told me I should eat something and I eventually ate some plain toasts. She also convinced me to take a shower, even though I only wanted to rest.
Somewhere late in the afternoon, around 17:00 or 18:00, I felt bad, got out of bed and immediately threw up, before getting near the toilet. It was mostly fluids. I was quite surprised and shocked, although I felt more stable afterwards.
After some cleaning up and taking a shower, I got back to bed.
The next chapter describes what happened afterwards including a day and a half I don't remember and the recovery that followed.
From here on, this is Galia's account as I don't remember anything from Sunday at around 19:00 – 20:00 until the early hours of Tuesday.
All the chapters: