After five years plus two months, I moved to another house. My new place is more quiet, and features a big tree overshadowing the nice balcony. While the distance between the two locations is merely 231 meters, it feels like a big change.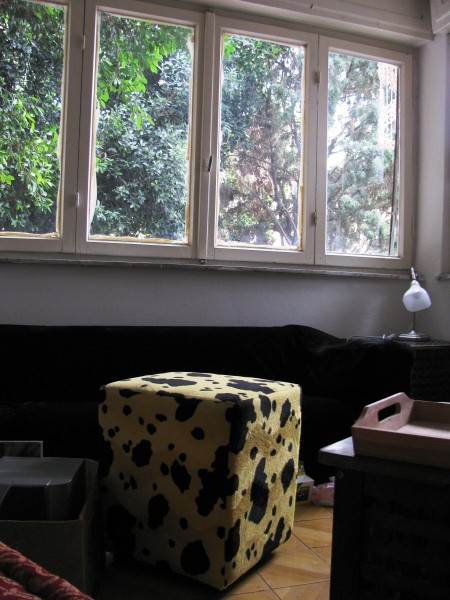 The view from the living room
My former house was on the first floor, behind a cafe and restaurant. The noise from the workers there was sometimes annoying. The house on the other side of the street is undergoing construction for a few years, and this will probably continue for several more. Since it's an old building, from the 1920s, it has to be conserved, making construction quite complicated.
And in recent months, retreating to the bedroom didn't help too much – also the building behind the house and near the bedroom was lucky enough to be renovated. The only quiet side of the building is a side I don't have any window to. The neighbors live there…
On the other hand, my new establishment is on a more quiet, residential only location. Also living on the second floor (or third floor as my girlfriend argues) makes the occasional car that passes by irrelevant.
Add the tree seen in the picture, and you get a quiet place. Excellent for sleeping and working, now that I work from home (and from cafes). It's still very close to all the hot places and now closer to the gym, giving me less excuses to stay out of shape.
Sounds perfect, right? Well, I don't need a quiet environment. I live in the city, not at home. While the extreme conditions in my previous home might have been too much, this new nice place is somewhat too quiet, despite the central location.
The next place will be perfect!