Not only I praise my city Tel Aviv. Also other residents. Most Tel Avivians like the city during weekdays, when it's alive, vital, around the clock, creative and interesting.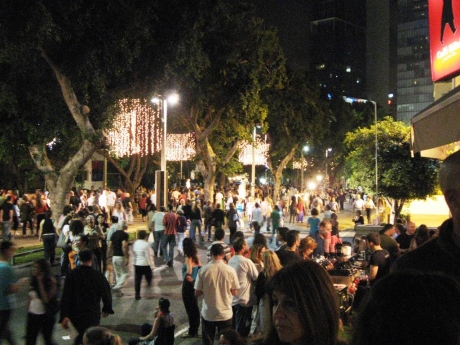 On weekends, the city becomes a hub for the whole metropolis, thus drawing people from the suburbs. We're used to it, and there are places that we prefer over others.
In this centennial year for Tel Aviv, there are lots of special events. Some events happen every year, but this year they're bigger. The last event was the "White Night". This idea was copied from Paris (I think), and is quite positive: during this evening, galleries, museums and other places are open till later hours than usual.
There are also lots of music shows on the streets. Music on the streets is common in the city, and in the "White Night" it's extended.
This time, the municipality decided to make a huge event out of it: Rothschild avenue was closed to traffic, and there were special activities there.
They also spilled money on publicity. The result was that too many people flocked into town. While I like the vitality of the city, the masses were impossible to handle.
You couldn't get close to any show, queues from galleries were enormous, and if you wanted to eat or drink something, you should have brought a sandwich from home. The celebrations turned into a gridlock.
I live near the center of Rothschild avenue, and in a very central part of town anyway. Also the small alleys here were crowded. I should have sold something from the window in my living room!
I escaped to the southern neighborhood called Florentine, which apparently wasn't recognized by the city. It was quite deserted. Everyone was in the center of town…More pictures of the masses.
But don't worry, Florentine had its share of the masses. Both in Israel's independence day (end of April) and in the Purim holiday, Florentine's street parties felt like being in can of sardines…
Last year's Florentine parties were less crowded and more fun. Here are some pictures.
I'll keep going out in the city on my favorite days: Sunday to Wednesday. I'll leave the weekend for the masses from suburbia.